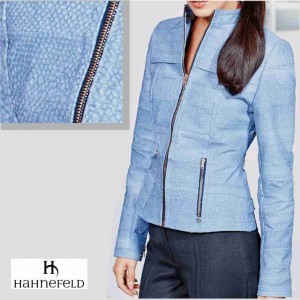 Hahnefeld, a German based fashion label is producer of high-end clothing for women. The company is working in an ecofriendy way in consideration of social, ethical and ecological factors. Hahnefeld offers highest quality on highest requirements.
The main focus of the design lies on timeless elegance. Hahnefeld is Made in Germany and works with clear and sustainable principles- from the first idea to the ready-made product.
A perfect appearance: The Collection is produced with high-quality materials. The ready-made pieces out oft he current collection are perfect in fitting. As an extravagant eyecatcher, Hahnefeld shows in their current collection an exotic Salmonleather-jacket. Using a light blue nouance of uncoated Nanaileather with open structure and soft haptic, the jacket is comfotable to wear.